After a fire broke out at an immigration detention center in Mexico, two of the center's guards can be seen running away, apparently making no attempt to release the men before smoke filled the room, surveillance footage shows.
Adan Augusto Lopez, Mexico's interior secretary, confirmed the authenticity of the video in an interview with local journalist Joaquin Lopez Doriga, according to The Associated Press.
At least 40 people died and 29 were injured when fire broke out late Monday night at a Mexican immigration detention facility run by the National Migration Institute in Ciudad Juarez, just across the border from El Paso, Texas, along the U.S. border.
Photos from the scene showed the parking lot of the facility lined with several bodies covered with blankets.
At least 68 men from Central and South America were being housed at the facility at Ciudad Juarez, which is a major crossing area for migrants or asylum-seekers wishing to enter the United States.
The dead and injured were from Guatemala, Honduras, El Salvador, Venezuela, Colombia and Ecuador, with Guatemalans being the largest contingent, according to a statement from the Mexican attorney general's office.
Guatemala Foreign Affairs Minister Mario Búcaro said 28 of the dead were Guatemalan citizens.
President Andres Manuel Lopez Obrador said once migrants heard they were going to be deported from Mexico, they started a fire inside the facility in protest.
'At the door of the shelter, they put mattresses and set them on fire, and they did not imagine that this was going to cause a terrible misfortune,' Lopez Obrador said. He added that the director of the country's immigration agency was on the scene.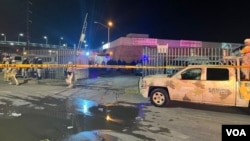 An image taken from video shows members of the Mexican Army at the site of a fire at an immigration detention facility in Ciudad Juarez, Mexico, March 28, 2023. (Cesar Contreras/VOA Spanish)
Mexico's National Migration Institute did not immediately respond to a Reuters' request for comment.
'Last night's events are a horrible example of why organizations have been working to limit or eliminate detention in Mexico,' said Gretchen Kuhner, director of the Mexico-based Institute for Women in Migration, which supports migrant rights, told Reuters.
U.N. spokesman Stephane Dujarric said in a statement that the secretary-general called for a 'thorough investigation' of the tragic event.
United Nations spokesperson Stephane Dujarric said U.N. Secretary-General Antonio Guterres was deeply saddened by the migrant deaths in Ciudad Juarez. Dujarric said Guterres conveyed condolences to the families.
"The secretary-general calls for a thorough investigation into this tragic event. Of course, we all reiterate our commitment to work with the authorities of countries where mixed movements of people occur to establish safer, more regulated, and more organized migration routes as we have been saying quite often from here."
Viangly Infante Padron, 31, a Venezuelan migrant seeking asylum in the U.S. with her husband and three children, waited at a nearby hospital for her husband, who was being treated for smoke inhalation.
She had been waiting outside the detention center for her husband when the fire started.
"There was smoke everywhere. The ones they let out were the women, and those (employees) with immigration,' she told The Associated Press. "The men, they never took them out until the firefighters arrived."
U.S. Representative Veronica Escobar, a Democrat who represents the district at the southern border closest to the shelter, tweeted Tuesday morning that 'More than 38 souls were lost in Juarez - people who were waiting and hoping for a shot at a better life. This refugee crisis has put vulnerable people at great risk every step of the way."
In recent weeks, tensions between law enforcement authorities and migrants have been running high in Ciudad Juarez. Shelters were full of those waiting for a chance to enter the United States or cross into the country to request asylum.
Hundreds of Migrants Try to Force Their Way Into US at Mexico Border
U.S. Ambassador to Mexico Ken Salazar said in a statement that Mexicans "are together" with migrants in Ciudad Juarez during this moment of pain.
"It is a reminder to the governments of the region of the importance in fixing a broken migration system and the risks of irregular migration," he wrote.
The office of Mexico's Attorney General is investigating the incident.